My Balls Need This - Part 1
Give us a listen, we make ourselves laugh
2 years ago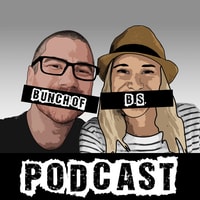 My Balls Need This - Part 1
In part 1 of this hilarious podcast, Brent and Sarah discuss their upcoming 20 year reunion, growing up during the transition of the internet and some steamy AOL chat rooms. A/S/L anyone?
Support Bunch of BS Podcast by donating to the tip jar: https://tips.pinecast.com/jar/bunchofbspodcast
Find out more on the Bunch of BS Podcast website.
This podcast is powered by Pinecast.